Expert Web developer cape town
Christie Marx creates beautiful, functional websites. Living in Cape Town, she works full-time building exciting online products.
Website Design
 I design unique, fresh web experiences focused on the needs of your users.
Website Development
I put a strong focus on performance. You need a fast and healthy website.
Website security
I ensure hackers don't have any easy back-doors into your website.
Website Maintenance
I keep your software up to date so the product lasts in the long-term
need a hand?
Free website advice
Here are some articles I've written on questions I often get asked by my clients. From website performance, to domains and hosting to design, I try to cover topics that are relevant. You shouldn't have to pay for answers when they are already available online for for free.
There are some things you should pay a web developer for – and others you can do yourself. If you need free website advice, from C programming to speed optimization, take a look through my posts and see if there's anything that could help you.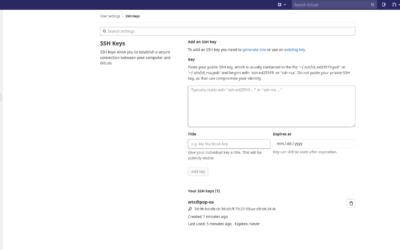 Do you need to set up an SSH key in GitLab so  you can pull and push without trouble? It's not as complicated as you think. Check if an SSH key already exists. Open your terminal and navigate to ./ssh in your home directory. List everything in that directory and see...
KICK-ASS WEB DEVELOPMENT
Want to get in touch?
I am a young, motivated developer living in Cape Town. I am mostly interested in working on freelance PHP web projects. However, I have also done a lot of building APIs and web servers with Java, as well as mobile apps with Dart and Flutter and simple, functional websites with WordPress. I am always open to learning new technologies.